Welcome to our Website!

Krishi Vigyan Kendra (or KVK in short) is a district level institution engaged in transfer of latest agricultural technologies to the end users for bridging the gap between production and productivity. It works through partnership mode with allied departments and agencies.


The ICAR-KVK Ri-Bhoi was established on 3rd August 2002 under the administrative control of the ICAR Research Complex for North Eastern Hill Region, Umiam, Meghalaya. Since inception this KVK has been endeavouring for the upliftment of socio economic condition of the farming community of the district through scientific intervention in the agricultural and allied sectors.
District Profile
---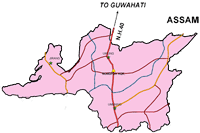 Area : 2,448 sq. km .
Population : 2,58,840 (2011 Census),
Main Food Grain Grown : Rice
Blocks : 3
No. of Towns : 2
Villages : 635

Web Information Manager

Mr. Pynshaitbor Jana,Programme Assistant,
ICAR Research Complex for NE Region Barapani- 793 103, Meghalaya.
e-Mail: pckvkribho[at]gmail[dot]com / pynshaitbor[dot]jana[at]icar[dot]gov[dot]in